Consulting for Web Professionals and Creative Entrepreneurs
Streamline your systems, create space for big picture thinking, and focus energy on the tasks that matter most for growth.
Take back control of your business
Running a business is f*cking hard. You don't know what you don't know, and working alone in your business has you questioning every single choice you make.
Plus, it's hard to be productive when your desk is cluttered and your inbox is overflowing.
And it's even harder to focus on your vision when you're constantly putting out fires.
You have a successful business, but you feel like you've gotten where you are flying by the seat of your pants, and you know you have to do things differently if you want to get different results.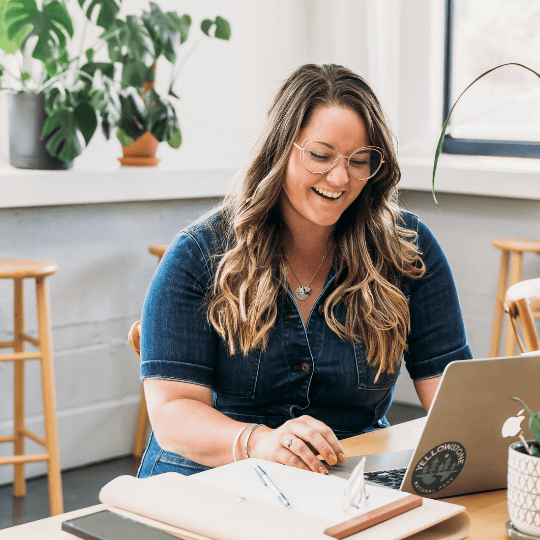 Meet Christina Marie Anderson
I've been called a business therapist...
(and I would totally have added that domain to my collection if it wasn't already taken)
…but I'm really just an insightful person who likes to help — which makes me great at supporting other web and creative professionals like you in making the right decisions for your business.
If you need to:
improve your existing systems
put repeatable processes in place
bounce ideas around with someone else who *gets it*
then we should talk.
Consulting for Creative Businesses
Wandersoul Co understands the unique challenges that creative business owners like you face. Rooted in a tradition of "paying it forward" these consulting plans were created with *you* in mind, to help you make the best decisions for your business.
Monthly Calls
Recurring monthly calls where you get to dump it all on me -- the good the bad and the ugly. From processes to proposals, and software to systems, we work toward solutions together.
Email Access
Unlimited* email communication throughout the month to help support you on the items discussed in our calls AND anything else that comes up that you need a second set of eyes on.
Flex Time
Flex time is for *anything else* outside our calls and email communication. This could look like reviewing email communication or proposals, research or video tutorials.
Don't just take it from me!
Here's What My People Are Saying
"Christina is more than a web designer, she is in it for all the layers that go into starting a business. Christina is professional and caring and she made the process exciting. Her creativity and knowledge are top notch. She freaking rocks!"
"I am overwhelmed and blown away!!! Layout, colors and font are brilliant! I know you've given me other avenues to comment and I will, but just wanted you to know I LOVE IT!!!! I had no idea, thank you for all the work."
"I love the design, but I also love the way you do business. You're incredibly professional and you have a great deal of practices and processes in place. Makes me feel well supported and has given me ideas for my own business."
"Christina made it simple and fun to build a website - the experience felt like the complete opposite of what I had been dreading for months. I now feel more proud than ever to share my products with the world and confidently provide my professionally-made website."
'You took my expectations and blew them out of the water! Your services went above and beyond my biggest dreams.I finally have branding and a website that I am proud to share with the world not one I want to hide away. I want to shout it out to the stars and I have so much creative juice for things to add to it."
"My favorite part of my project was working with Christina. She kept me on task, talked me down when I was feeling overwhelmed, and gave me the confidence I needed to continue on."
"I've had a fantastic experience working with Christina! What she does at Wandersoul is hard to sum up by just saying the concrete things she offers (web design, branding, admin services, client relations) because her real genius is how she glues together all the cracks of your business that you didn't even know were there."
"I love the design, but I also love the way you do business. You're incredibly professional and you have a great deal of practices and processes in place. Makes me feel well supported and has given me ideas for my own business."
Having someone to collaborate with really forced me to say my fears out loud (I didn't even know they were there) and realize what was holding me back from taking my business to the next step.
"Christina was able to take all my ideas/images/copy and turn it into a streamlined, user friendly site that has plenty of room to grow... I'm always saying "use your resources" and Christina is one that I regularly count on."