Bespoke WordPress Web Design for
Female Service Providers
Uncomplicating WordPress Web Design and Creating Marketing Machines for Six-Figure Female Founders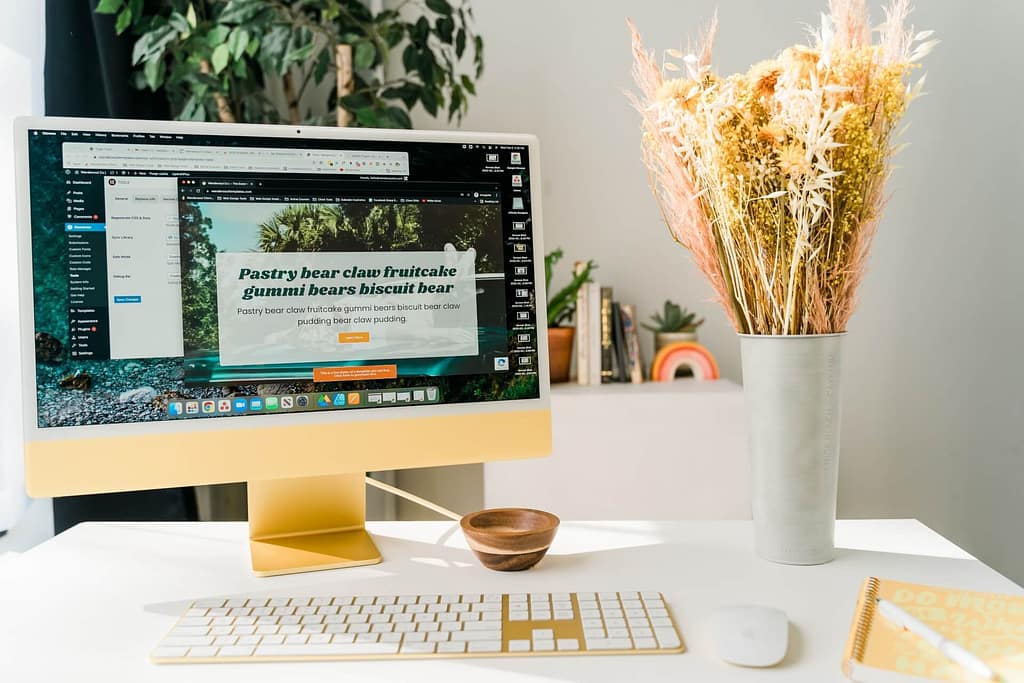 Because who actually loves that sales page scroll?
 ✅ You a six-figure female founder tired of working on your web design yourself — it's not your zone of genius.
 ✅ Your website isn't working for you 24/7, which means you're losing money every day.
 ✅ You're ready to find a trusted partner to bring your website vision to life.
 ✅ You value communication, responsiveness, and strategic thinking when it comes to elevating your website.
✅ You're ready to invest to have a website that actually works for your business.

Sound like you? We should chat 👇
Are you ready to establish a powerful online presence that not only captivates but converts?
Wandersoul Co specializes in creating high-performing, personality-packed WordPress websites that serve as the foundation for all of your business's marketing efforts.
Prioritizing trust and transparency. You'll be informed every step of the way, ensuring that my work aligns with your vision and goals.
More Than Just "a Website" You won't just get a website; you'll get strategic marketing and lead generation systems that integrate seamlessly with your existing software, helping you to drive growth and reach your target audience.
You are my people. When we work together you'll be hiring an expert who knows where you've been, the challenges you face, and how to help you best overcome them. I am dedicated to understanding your unique vision, needs, and objectives, ensuring that your website reflects your brand's personality and values.
Packages: Web Design for Female Service Providers
WordPress web design services designed to capture your unique personality and expertly engineered to integrate seamlessly with your marketing and sales efforts.
Design Day Website
A foundational WordPress website built with everything you need, nothing that you don't -- built in just one day.
Starting at $4250
60-Minute Kickoff Call
One dedicated design day on which the following will be created:
5-8 Page WordPress Website
Custom Coming Soon Page
Email Management Software Integration and Lead Magnet Setup
Social Media Integration
Blog setup
Elementor Pro Page Builder (+yearly licensing fee)
Astra Theme
Google Analytics Integration
RankMath Free Plugin Setup
Basic SEO Metadata Setup
Creation and submittal of Sitemap
Custom Thank You Page
Embedded Scheduler Page (when available)
Custom 404 Error Page
Single Post Page
Template
Archive Page Template
Search Results Page Template
Mobile Responsive
Security Certificate Installation
Image optimization
Website optimization plugin installed + configured (+yearly licensing fee)
Website security plugin installed + configured
Hosting + Domain support
Privacy Policy + Cookie Consent Tool Configuration (+yearly licensing fee)
One Round of Website Revisions
One Round of Website Refinements
Launch Support
30 Days of Email Support
$4250
Paid in two installments – 50% to reserve your date and 50% due on your design day.
Advanced Functionality Website
Everything that's included in the Design Day website + advanced functionality based on your unique needs.
Starting at $5500
Website Discovery which includes:
Audit of existing website (if applicable)
Discovery Questionnaire
90-Minute Discovery Session
Custom Project Roadmap
Custom WordPress Website Build including:
Custom WordPress Website Pages
Additional Website Functionality as necessary, including: Digital eCommerce, Memberships, Subscriptions, Scheduling, Course hosting and more
Custom Coming Soon Page
Email Management Software Integration and Lead Magnet Setup
Social Media Integration
Blog setup
Elementor Pro Page Builder (+yearly licensing fee)
Astra Theme
Google Analytics Integration
RankMath Free Plugin Setup
Basic SEO Metadata Setup
Creation and submittal of Sitemap
Custom Thank You Page
Embedded Scheduler Page (when available)
Custom 404 Error Page
Single Post Page
Template
Archive Page Template
Search Results Page Template
Mobile Responsive
Security Certificate Installation
Image optimization
Website optimization plugin installed + configured (+yearly licensing fee)
Website security plugin installed + configured
Hosting + Domain support
Privacy Policy + Cookie Consent Tool Configuration (+yearly licensing fee)
Two Rounds of Website Revisions
One Round of Website Refinements
Launch Support
30 Days of Email Support
Starting at $5500
Typically paid in 3 installments of 50%, 25% and 25%.
Custom payment plans available.
"I'm so in love with my website!"
My favorite part was working with Christina. She kept me on task, talked me down when I was feeling overwhelmed, and gave me the confidence I needed to continue on. She is more than a web designer, she is in it for all the layers that go into starting a business.
Every Website Project Includes:
Not sure about all of this just yet?
I understand that investing in your business takes trust and repoire with your service provider. And that doesn't happen overnight (or in a 30-minute discovery call).
Plus, I know you've been burned before (or are scared as hell the web developer horror stories you've heard about will happen to you too) and you don't have money to waste picking the wrong person to bring your vision to life.
That's why I've created Ignite Your Website
Part client experience audit, part strategy session, part fact-finding mission, 100% necessary to understand exactly how to take your website and client experience to the next level.
Hey there! I'm Christina and I empower female founders like you with a solid, stunning, and strategic digital foundation that supports and amplifies all your marketing efforts.
I specialize in working with driven, resourceful, and sometimes misfit women who are dedicated to propelling their businesses forward.
Whether you are an industry leader or an aspiring entrepreneur, my strategic solutions are designed to capture your voice, personality, and expertise – giving your audience all the information they need to become your next favorite client.
Here's What Clients Like You Ask Before They Sign on the Dotted Line
Trusted By
Women Who Are Making an Impact
"Like a dream come true!"
I have gotten SO many compliments on my site! I am so proud to finally feel and look professional and polished, it gives me more confidence to share my website to potential clients. Plus, Christina's communication was awesome. I was never, not once, left guessing what was happening, or what was coming next. I LOVE that! Christina was also very professional, yet relatable and listened to every thing I had to say.