Lori came to me with a website that she wasn't proud of -- and wasn't sending people to. She was entering herself into an upcoming art exhibition, and really wanted to nail her application by linking to a website that let the curators learn more about her and her art.

We were on a tight deadline during the holiday season -- which means we were both limited on time. My done-in-a-day website service was perfect to get Lori a website she was proud of before the art show application was due.
↠ Create a Cohesive Online Presence
Design + Build a Simple, Easy-to-Navigate WordPress Website
↠ Integrate Custom-Icon into Brand Strategy
↠ Make it Easy for Lori to Showcase her Art
↠ Make sure Lori felt supported throughout the whole process
"I have a website on wix. I am not sure you are able to work with this or not. The whole thing needs to be revamped. It don't know anything about word press.. "
Given that our timeline was limited to create both a cohesive brand and a strategic website Lori received four questionnaires once she paid her deposit, and we executed both her brand strategy and WordPress development projects simultaneously to make the most of our limited timeframe.

It took about two weeks from our initial conversation to the time we launched the site -- and quality assurance on the site was completed a few hours before the application needed to be submitted.
With two full rounds of revisions completed on Lori's new brand and website, both launched without a hitch. Lori began to receive compliments immediately on the new site, and she was able to feel confident securing her spot in the art show she initially applied for, along with expanding her business in the months after the new website went live.
The final WordPress website design was a one page website using clearly divided sections and anchor links in order to provide a simple, easy to navigate website for both Lori and website visitors.
Brand Strategy
Typography + Color Palette Selection
Website Strategy
Website Design
WordPress Website Development
eCommerce Integration
Print-on-Demand Integration
Website Maintenance
Business Card Design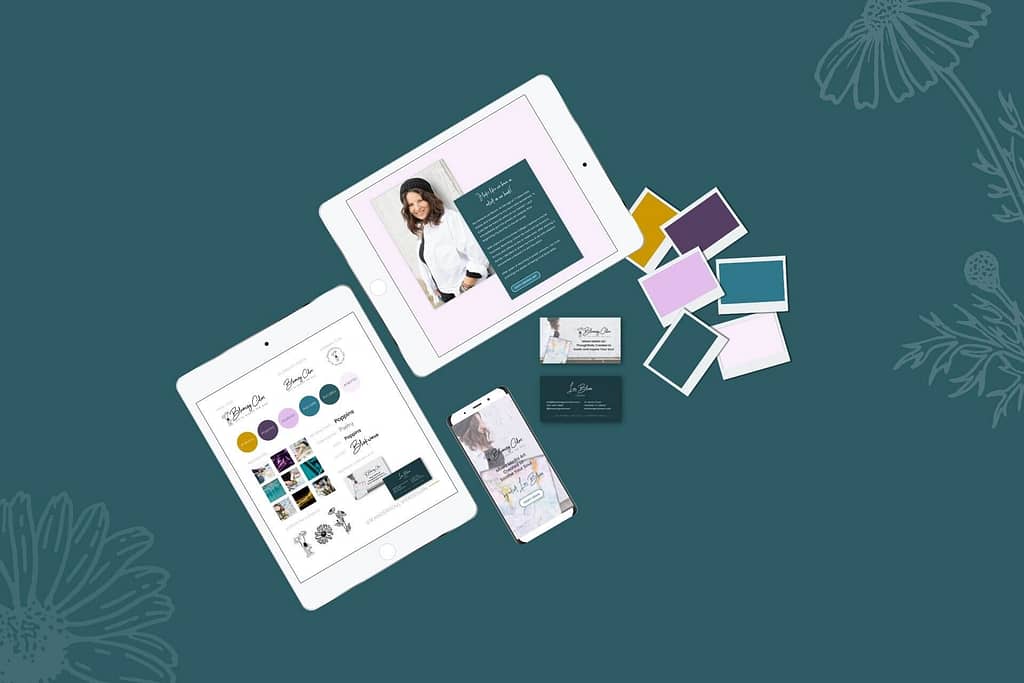 "I feel more "official" as an artist."
LOVE IT! You did an amazing job! I love that I have a logo and colors that I can use continually. It makes my work look more professional. I have continuity in my brand that I didn't have before. Getting a logo (especially the circle one!) pulled it all together for me. I also love that I now have a web site where I am excited to send people to look at my work. I love that you listened to my thoughts and were more than willing to go back and forth with me on ideas. I know that I had a vision in my head and you were able to bring it to life. I know picking out the "right" colors was the hardest part for me and your explanation of why some colors work and others don't really helped me to understand the design aspect. I appreciate that you were willing to take the time to explain this to me!
Ready to invest in your own website build?
Start the conversation today.